Information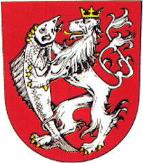 coat of arms of Děčín
Děčín
(German:
Tetschen
, also
Tetschen-Bodenbach
) is a city in the North of the Czech Republic in the Ústecký kraj region at Labe river. The first naming in a document dates back to year 933. Today there live about 48.800 people in the city.
Ideas of a trolleybus project first appeared already in 1909 but were not realized due to financial and logistic problems. Finally a trolleybus system existed between 1950 and 1973. The first trolleybus section between Mírové náměstí and Náměstí Svobody was opened solemnly on 6th of January 1950, the tracks to Kamenická and Chrochvice followed certain months later. In March 1953 opened the third line to Bynov, that one to Staré Město two months later. A second North-South track to connect the industrial area Rozbělesy went into service in 1958, so the network nearly reached its maximum length of about 26 kilometres. It now consisted of the following four trolleybus routes:
Line 1: Chrochvice – Kamenická
Line 2: Bynov – Staré Město
Line 3: Chrochvice – Náměstí Svobody
Line 4: Gottwaldova – Náměstí Svobody
In 1960 two short extensions were built, one along Podmokelská street in the city centre and one in Chrochvice to reach the new-built loop at the terminus. The trolleybus fleet consisted of Vétra/ČKD trolleybuses at the beginning of operation, they later were replaced by Škoda 7Tr, 8Tr and 9Tr vehicles, which partially went to Teplice after end of operation. The trolleybus depot was located at Dělnická street at the area of today's bus depot.
At the beginning of the 1970s the city did not want to use the trolleybus network for longer time and planned a complete dismantling until year 1980. Because of cheap oil and the fast production and delivery of new Karosa ŠM 11 diesel busses the end of the trolleybuses already came in 1973. The last day of trolleybus operation was the 14th of December 1973, when the last tracks to Bynov, Kamenická and Chrochvice were finally closed at noon. On the afternoon of this day the Škoda 9Tr trolleybus No. 5 was washed, decorated and set out on the street to say goodbye to those who had served the trolleybuses in Děčín for more than 23 years.
Today we still can find several remains of the fixing of the overhead wires in the form of hooks on the house facades and pillars for example along the former track to Bynov. Further information on the trolleybus operation can be found on the site of the local transport company DPmD a.s. which also serves the today's bus network under
www.dpmdas.cz/trolejbusy
.