Information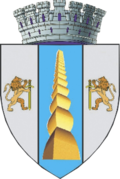 coat of arms of Târgu Jiu
Târgu Jiu
is a city in the Southwest of Romania and the capital of the Gorj country. It was first named in a document in 1406 and has today about 80.000 inhabitants. Since 1992 there is a university in the city.
As one of certain Romanian cities Târgu Jiu received a small trolleybus system in the middle of the 1990s. The first 8.9 kilometer line opened in June 1995. It connects the "9th May" residential area in the South with the railway station, the city centre and the
ARTEGO
industrial zone in the North of the city. The second trolleybus track was created as a junction from the city centre to Bârsești at
Romcim
factory and has a length of 3.8 kilometers. It opened in December 1999. The two routes have inoficially the following numeration:
Line
1
: Cartierul 9 Mai – Artego
Line
2
: Cartierul 9 Mai – Bârsești
The trolleybus fleet still consists of the original vehicles from 1995/96 made by the Romanian Rocar company. There are single and articulated high-floor trolleybuses. Târgu Jiu is the worldwide last city using such classic Rocar trolleybuses. The trolleybus depot is located at Strada Zambilelor street in the North of the city. Currently (2019/2020), trolleybuses operate from the morning until 3 in the afternoon only and then are replaced by diesel buses. Trolleybus line 1 works on weekdays on average every 12 minutes, line 2 serves its track once an hour. Single tickets are available at kiosks and ticket machines on selected stops. All vehicles have validation machines. There are no daily tickets. The website of the local transport company
Transloc
can be found under
www.transloc.ro
.