Information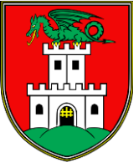 city arms of Ljubljana
Ljubljana
is the capital and the biggest city of Slovenia. The today's population is about 288.000 people. In year 1144 Ljubljana was first named in a document. The city is especially famous for its historic city centre and the castle located in the middle of the town.
There was an electric tramway system between 1901 and 1951 in the city, opened on 6th September 1901. The maximum length of the network was 18.5 kilometres. It was closed in December 1958 when all trams were completely replaced by busses and trolleybusses. Some of the tramars went to Osijek (Croatia) and Subotica (Serbia) after that. In the early 2000s the idea of a comeback of the tramway system came up but was not realized until now.
The trolleybus system of Ljubljana was opened in 1951 in addition to the tram network. From the beginning the trolleybusses were supposed to replace the trams which was realized in 1958. But the trolleybus operation was not quite successful, there were often some problems with the overhead wires and in the winter passengers were hit by electric shocks due to reactions with salt mixtures used for winter street services. The last trolleybus operated on 4 September 1971 on the streets of Ljubljana as line 1. One day later all trolleybusses were replaced by diesel busses.
The Ljubljana funicular which connects Krekov square with the castle in the city centre has a lenght of 70 Metres and was opened on 28th December 2006. There is only one track with one funicular vehicle moving between the upper and lower station. It runs between the hours of 10:00 and 21:00 in wintertime, and the hours of 10:00 and 22:00 in summertime, and the full trip lasts 60 seconds. The idea of construction of such a funicular already appeared in 1897.
An operation of electric busses can be found in the centre of Ljubljana. Two small vehicles called
Zeleni kavalir
(green kavalier) work for free on non-fixed routs for tourists, they also transport packages and mailings through the centre of Ljubljana. This operation is served by the local bus company Ljubljanski potniški promet (LPP).
Further information:
Wikipedia: Ljubljana tram system
Wikipedia: Ljubljana Passenger transport
Article about Ljubljana Passenger transport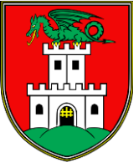 Герб города Любляны
Любляна
— самый большой город и столица Словении. Сегодняшнее население составляет около 288 000 человек. В 1144 году Любляна была впервые названа в документе. Город особенно известен своим историческим центром города и замком, расположенным в центре города.
В Любляне существовал электрический трамвай в период с 1901 по 1958 гг. Строительство трамвая началось в 1900 г. и уже 6 сентября 1901 г. трамвай был введен в эксплуатацию. В период своего максимального расцвета в 1940 г. длина линий достигала 18,5 км (11,5 миль). Система проработала до 20 декабря 1958 г., когда трамвай был полностью заменён автобусами и троллейбусами. Вскоре после этого рельсы были демонтированы, а вагоны были переданы в г. Осиек (Хорватия) и г. Суботицу (Сербия). В начале 2000-х гг. была предложена идея по восстановлению трамвайной системы.
Троллейбусные линии постепенно начали приходить на смену трамвайным с 1951 г., однако опыт их эксплуатации оказался не слишком успешным. Достаточно часто случались сходы штанг с контактной сети. Дополнительные проблемы вызывала зима и связанное с этим посыпание дорог смесью соли и песка. Солёная вода вызывала замыкания электроцепей троллейбусов, также часты были случаи поражения пассажиров током. Последний троллейбус прошёл по улицам Любляны 4 сентября 1971 г. по маршруту №1. На следующий день троллейбусы были полностью заменены автобусами.
Фуникулер Любляны — в настоящее время единственный в городе вид городского пассажирского рельсового транспорта — соединяет площадь Крекова с замком в центре города, имеет длину 70 метров и был открыт 28 декабря 2006 года. Между верхней и нижней станцией существует только одна трасса с одним фуникулером. Он работает с 10:00 до 21:00 по зимнему времени и с 10:00 до 22:00 по летнему времени, а полная поездка длится 60 секунд. Идея строительства такого фуникулера появилась еще в 1897 году.
Работу электобусов можно найти в центре Любляны. Два небольших транспортных средства под названием «Zeleni kavalir» (зеленый кавалер) бесплатно работают на нефиксированных маршрутах для туристов, а также перевозят посылки и почтовые отправления через центр Любляны. Эту операцию обслуживает местная автобусная компания Ljubljanski potniški promet (LPP).
Дополнительная информация:
Википедия: Люблянский трамвай
Википедия: Люблянский пассажирский транспорт
Статья о Люблянском пассажирском транспорте