Information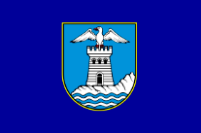 flag of Opatija
Opatija
(italian:
Abbazia
) is a small city at the coast of Croatia, located on the Istrian peninsula. The traditional seaside resort on the Kvarner Gulf is known for its Mediterranean climate and its historic buildings reminiscent of the Austrian Riviera.
To connect the resort in Opatija with the railway station Matulji on the railway track Ljubljana – Rijeka the city planned the construction of a steam tramway line. But this idea failed because of the hotel industry fearing the smoke and noise generated by steam locomotives, which would disturb their guests. Hence, the tram line could be built only as an electric tramway system. The 12 kilometres long interurban route between Matulji, Opatija, Ičići, Ika and Lovran opened in February 1908. The gauge was 1000 Millimetres.
The high difference between Matulji train station and the cost was about 210 metres the trams had to overcome. Between Matulji and Opatija the trams also went through a short tunnel. In March 1933 the tram line was closed and the tracks were removed. All of the 2-axle motor cars later went to the tram system of Ljubljana. Plans to connect the line with the tram in Rijeka were not realized any more. Today still can be found some rosetts/fixing hooks of the former tram's overhead wires. The tunnel is part of a pedestrian way.