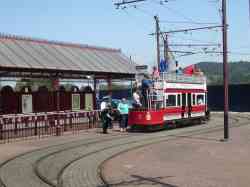 Terminus: Seaton
Seaton Tramway, Devon, United Kingdom. Near Exeter.
Gauge 2' 9" (838 mm) narrow gauge electric tramway
Route: Seaton to Colyton, 3-mile (4.8 km) along the valley of the River Exe.
Tram: Number 2. Built in 1964 at Eastbourne. Based on a London tram of the "Metropolitan Electric Tramways" Type A.
Saturday, July 2, 2011
Author: Engineer
¤