Information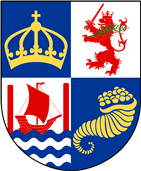 coat of arms of Landskrona
Landskrona
is an industrial port city in the South of Sweden, located in the Skåne län region between Malmö and Helsingborg. The city was founded in 1413 by King Erik VII. of Denmark. Today Landskrona has about 32.000 inhabitants and is one of the smallest cities in the world and the only one in Sweden with a trolleybus system.
In 1997 the dicision was made to change the course of the main railway route route between Lund and Helsingborg. The consequence was a new location of a new railway station for Landskrona outside the city centre. The city administration began to think about a better connection between the station and the city. After opening of the new train station in 2001 the city finally decided to build a trolleybus route to connect the station with the city port in the centre. The construction started on 30th January 2003 and finished already in June. Between 2nd and 14th July the first test rides with a Solaris trolleybus from Tallinn took place. In the end of August 2003 the three own ordered vehicles type Solaris Trollino 12 II with electric equipment by Ganz arrived in the city. Those are equipped with a weak battery power to get in and out of the depot. In the morning of 15th September the regular operation started, the grand opening festival was on 27th September. There is an own wind turbine which produces electricity for the trolleybus system. The only trolleybus line is defined like this:
Line 3: Stationen – Centrum
The track is 3.0 kilometres long and served by trolleybusses every day. There are seven stops and one jouney takes about 10 minutes. A fourth trolleybus of the third Solaris generation and with Škoda electric equipment arrived in September 2010. It is equipped with auxiliary diesel generator power. The fifth and last vehicle of the same type went in service in 2013 and has auxiliary power by batteries. The two newest trolleybusses are able to ride on non-trolleybus routes without overhead wires too like lines 4 and 5. The depot is located in an industrial zone near the centre terminus but is not connected by oberhead wire. All trolleybusses need to operate by battery or diesel-generator to get in and out the depot. All five trolleybusses have names beginning with the letter "E" according to the electric power.
The operation is managed by the South-Swedisch transport company Skånetrafiken which also offers maps and timetables on its website under
www.skanetrafiken.se
. The Landskrona trolleybus system is after Prague currently the second-smallest public-operating trolleybus system in the world.
In January 2019 the city started another project of electric urban transport. That was the beginning of the service of 14 electric busses of the Chinese manufacturer BYD. They now serve the other lines of the city network in Landskrona and maybe could perspectively replace the trolleybus fleet totally.