Information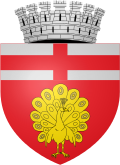 coat of arms Botoşani
Botoşani
is a city located in the North-East of Romania in the Botoșani County which is not far away from the border to Moldova and Ukraine. The city was first mentioned in a document in 1439. The population is today about 106.000 people. Botoşani is known for its furiture factory
Nordtour
and has only a few relatively unpopular sights in form of small churches, the city's most bulidings are new-built concrete settlements from the 1980s.
Plans to build a tram network first appeared in 1988. Between 1989 and 1991 was built a first tram track in East-West direction along the main street Calea Națională with a depot at the Western end of the track near the terminus
Fabrică de Mobilă
(furniture factory). The opening of this 5.8 km long route was in September 1991. At the same time started the construction of the second track for tram line 102 in Strada Sucevei and Strada Primăverii street. This 1.7 km additional track which branches off the first track at the railway station was opened in November 1993 and goes to
George Enescu
terminus South oft the city centre. Since that the two tram lines operate like this:
Linie 101: Fabrică de Mobilă – Gară – Luceafărul (5.8 km)
Linie 102: Fabrică de Mobilă – Gară – George Enescu (4.6 km)
At the junction point of the two lines (near Gară station) was installed a turn loop which was usable from directions Luceafărul or rather George Enescu. But the loop went out of service at an unknown time and is not usable today any more. In 1993 also started the construction of a 1.8 km connection between
George Enescu
terminus and tram line 101 at Calea Națională street in the South of the city but due to financial problems the construction process was never finished. You still can find remains of the non-finished track in this section, e.g. at Strada Viilor street.
Already in 1990 the transport company got ten 8-axle tramcars of Romanian type ITB V3A which were the first ones used in Botoșani since the opening of the tram system. In 1992/93 six second-hand V3A from the city of Cluj-Napoca arrived in Botoșani needed for the operation of the second tram line. The next trams for Botoşani were six third-hand Tatra T4D from Oradea, formerly operated in Magdeburg (Germany). Those cars replaced the worn ITB V3A from 1991. The last V3A went out of service in 2002 after takeover of 25 vehicles Tatra T4D, Tatra T4D-MI and Tatra T4D-Z from the German city of Dresden. Some of these tramcars operate until today and were added by further eleven modernized Tatra T4D-MT from Dresden in April 2011. Hence, the current tram fleet purely consists of ex-Dresden Tatra T4.
Both tram lines operate in 10 to 15 minute intervalls. All tram services are equipped with a conductor who sells singe-trip tickets. The website of the local tram company Eltrans is available under
www.eltransbt.ro